Beautiful, Simple, Innovative

We at BloomingTables wanted to design a beautiful table that could house your plants in a functional yet practical way. Every table comes with a waterproofing acrylic tub that protects both your table and floors from water. Simply place a layer of rocks, activated charcoal, then soil-and your are all set to create your own beautiful arrangement.
Every product is designed to be: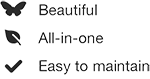 We've worked hard to bring the beauty of the outdoors-indoors.
As plant lovers, it wasn't long before we were running out of places to keep our plants. We wanted to find a way to bring more plants into our lives in a new and innovative way. There are an abundance of stunning species of plants, and countless ways to create arrangements. However, there are limited options for the housing of indoor plants. BloomingTables was born out of the idea that beautiful plants deserve beautiful homes. We have created a product that has brought character and joy into our home, and we want to share this experience with others.